Thinking about redefining your home? Perhaps you are after an upgrade, but you just don't know what would work well without having to change the style of the entire house.
If this is the case, we have a solution for you! Frameless glass balustrades are the perfect option.
In this article, we will discuss the top five reasons to consider glass balustrades for your home or office and how you can get your very own today!
1) Sleek and beautiful
There is no point in renovating your property, only to get clunky, unfunctional and ugly results.
With glass balustrades, you get the pinnacle of structural beauty, combined with sleek and functional style.
Glass works seamlessly with any other material. So whether you have a brick, wood or stone interior, a glass feature will only add beauty to your home or workplace.
By choosing glass balustrades, you don't have to worry about existing styles or colours – and that helps take the unease off the renovation process.
You can rest easy knowing that your new addition will only increase the magnificence of your abode.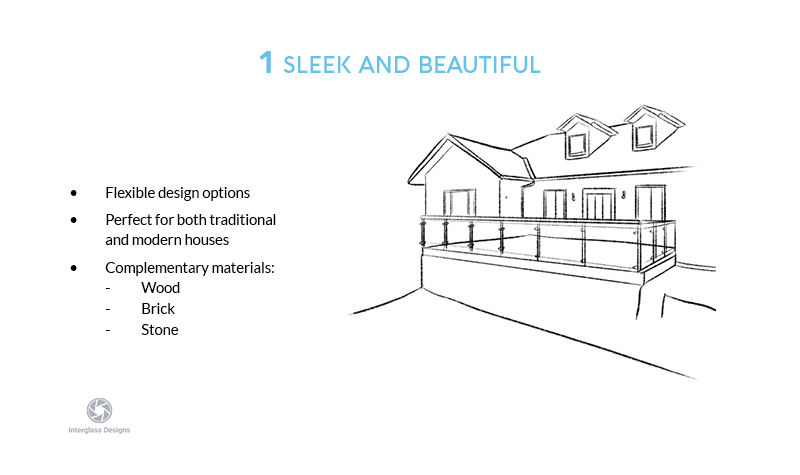 2) Eco-friendly
Most people are starting to consider the environment more as they select renovation options. With glass balustrades, you can have the beauty as well as comfort knowing that these are 100% eco-friendly.
Glass is an unflawed building option and is completely safe to have in your home for children and pets. Plus, it is a great addition to your office!
It can be difficult to justify a material for your space, but with glass being eco-friendly, it adds another positive feature to its list.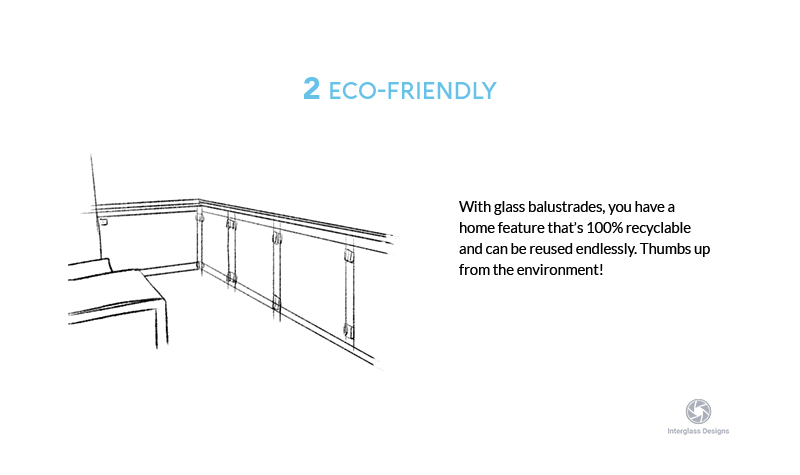 3) Light and space
When you live in a country as beautiful and vibrant as Australia, it is important to take advantage of the natural light we are supplied with.
Many Sydney properties are designed to promote light and space. But oftentimes, the materials we select limit the amount of light that enters our homes or businesses.
With glass balustrades, you allow light to easily pass through your property which not only livens the place up, but also creates the illusion and feeling of abundant space. For any home or office, this is ideal.
Also, using glass panels allows you to place more indoor plants around the area, as they will still be able to receive nourishment from the sun.
It also lets you cut down on heating costs by simply opening or closing curtains or blinds to raise or lower temperatures.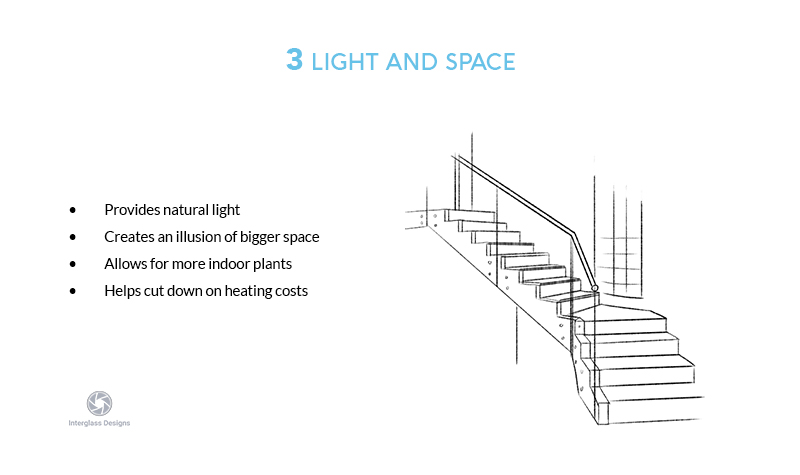 4) Durable and strong
Many people worry about using glass structures because we are all so used to glass being fragile.
With regular glass, this statement would be correct. But with tempered and toughened glass, you would be hard-pressed to find a more durable yet elegant substance.
Our glass balustrades are super strong and scratch-resistant. They don't shatter like regular glass do. Your railings, whether indoors or outdoors, are completely safe – and so are you and your family.
5) Maintenance
We all hate having to spend our hard-earned weekends cleaning the house because we couldn't get to it during the week. You won't want to be the one to clean your office either.
With glass balustrades, you don't have to worry about all the extra work.
Glass truly is a hassle-free material. It is super easy to clean and doesn't require special chemicals or materials. And when it is spotless, it looks spectacular!
See our blog on how to easily clean glass .
Now, in the off chance an accident happens and your glass feature breaks, it won't shatter as stated.
The maintenance of fixing it is super simple. Unlike other materials where large areas need to be replaced, it is just a matter of replacing the broken panel.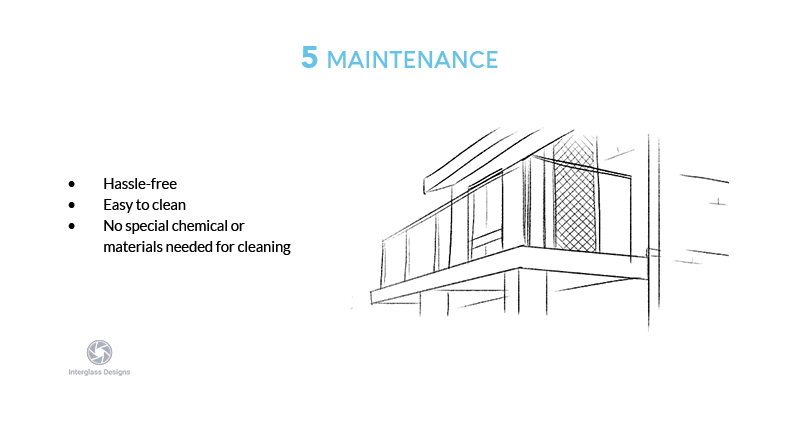 ---
These are five points as to why you should consider frameless glass balustrades.
If you are after a beautiful, eco-friendly, practical, strong and hassle-free material for your next project or perhaps an upgrade, then look no further than Interglass Designs. We are Sydney's leading glass stair balustrade and balustrade installers.
For more information, contact our experienced and friendly team at 0484 244 382. Our Aussie standard glass is built to last and we can assist you in achieving your dream space!
Download full infographic